November 03, 2021
Press Contacts
Nikhil Sathe
416.997.9300
Karin Mellin
520.433.2789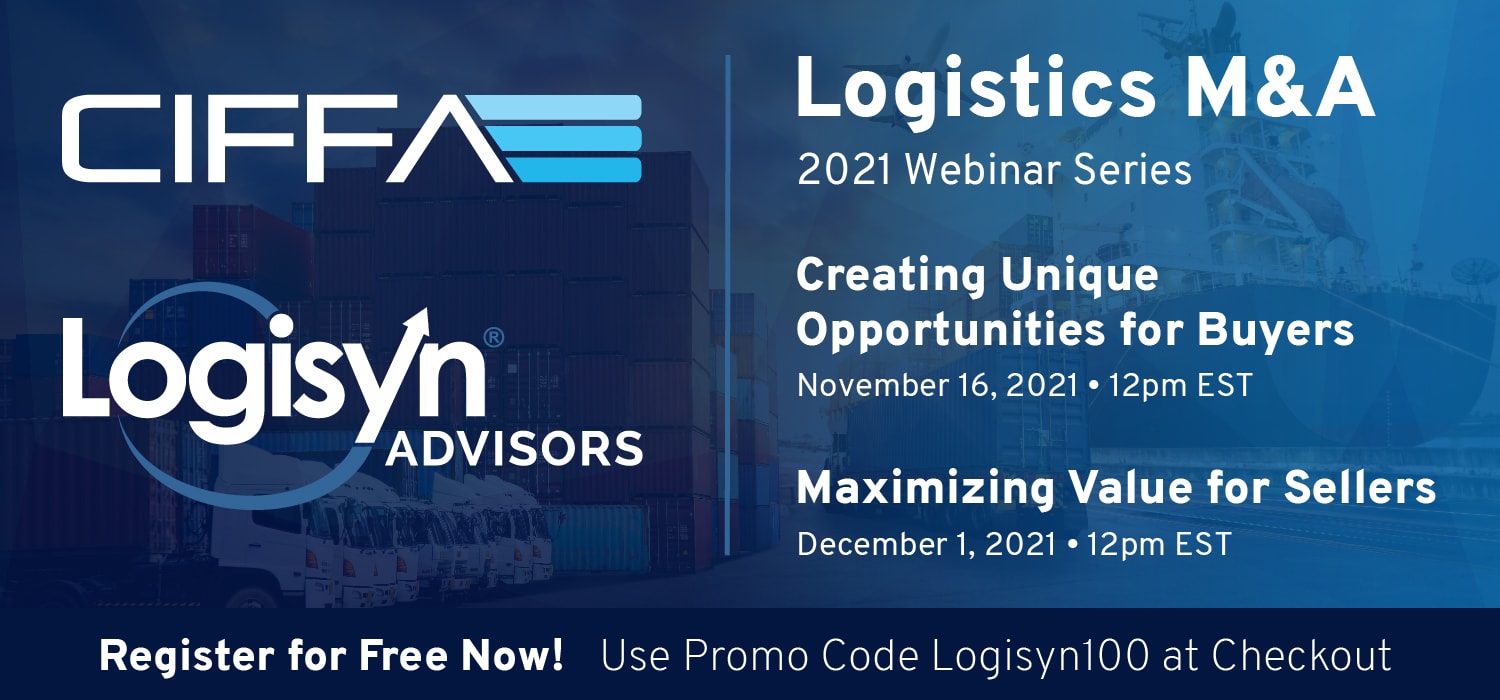 CHICAGO —
Logisyn Advisors and CIFFA (Canadian International Freight Forwarders Association) have partnered together to create this Logistics M&A (mergers & acquisitions) webinar series to help drive value for buyers and sellers. We invite you to learn from logistics M&A experts, including Logisyn's Managing Director Nikhil Sathe, former sellers, and industry buyers on how to prepare and maximize your company's value with takeaways for founders and owners.
The logistics industry has done particularly well through the pandemic and experienced tailwinds. Growth through synergistic partnerships and acquisitions has been one of the routes many companies have taken over the past several years. Current trends show a historic amount of capital and buyers chasing logistics assets, which has created unique investment and growth opportunities to consider.
Register today and take advantage of current trends! Registration on CIFFA.com is required to sign up for these events, please use the promo code Logisyn100 at checkout – to register for free!
-----
Creating Unique Opportunities for Buyers • November 16, 2021 | 12PM ET --- This webinar will analyze the market for the benefit of executives and owners of growth-oriented logistics, freight forwarding, and transportation companies. There are many ways that a "growth through acquisition" strategy can benefit your company, such as expanding your customer base and geographic footprint or even your service offerings. Other routes could include improvements to current IT structures or acquiring valuable licenses and industry experts. The trick is finding the optimal solution for you and your goals. Curious now? Read more about Buy-Side Advisory on the Logisyn website. Register now!
Maximizing Value for Sellers • December 1, 2021 | 12PM ET --- The current M&A market in the Transportation and Logistics Industry is red hot and very active. Logisyn's experts and our panel of thought leaders will discuss valuations, deal structure, diligence, and the process when you take your company to market. This information will be extremely valuable for owners and founders to plan ahead. Impatient to get started? Find out more about Sell-Side Advisory on the Logisyn website. Register now!
###
About
NIKHIL SATHE has 25+ years of executive experience as CFO/COO for growth-oriented 3PL's in North America and internationally. He is a visionary, pro-growth and transformational leader known in the North American 3PL industry with a unique blend of experience in financial stewardship, P&L Management, and M&A. Nikhil has a proven track record of successfully running both buy-side, sell-side, and strategic engagements for mid-size logistics and transportation firms.
LOGISYN ADVISORS takes pride in its unique approach to mergers and acquisitions (M&A) within the global logistics sector. Headquartered in Chicago, IL, our team members span North America coast-to-coast in the U.S and Canada. Our senior executives have 125+ years of combined logistics domain expertise to accurately advise you on the optimal next step for your business. Logisyn provides advisory services for sell-side, buy-side, and enterprise valuation to successfully deliver on all your company's goals.
CIFFA - CANADIAN INTERNATIONAL FREIGHT FORWARDERS ASSOCIATION - Whatever your role in the movement of goods, the Canadian International Freight Forwarders Association is important. For freight forwarders, we offer support, advocacy, and the stature of our world-class CIFFA brand. To a shipper or importer, we provide a list of highly professional freight forwarding companies, all of whom operate using Standard Trading Conditions. To the providers of goods and services and to carriers in all modes, we facilitate access to some 250+ regular member firms.